Function of welding fume purifier: welding fume purifier is a purification device specially designed for industrial welding fume and light particles. It is light, flexible and easy to operate. At the same time, it is widely used in chemical, electronic, metal processing, tobacco, glass, pharmaceutical, food processing, purification room, hospital and other industries and other places with dust and smoke pollution.
Dust purifier
·
Suitable for: welding fume, cutting fume dust, laser welding cutting fume, plasma cutting fume, polishing dust, drilling dust, mixing and cutting materials to produce
Performance description
·
Integral structure with Fuma wheel at the bottom, flexible movement and fixing
·
Anti-suction device to make the effect of ash cleaning more thorough
·
Power supply condition monitoring: alarm of fault phase overvoltage and undervoltage to prevent motor and electrical components from damage
·
Pressure condition monitoring:
alarm for low pressure of gas source to prevent incomplete dust cleaning.
·
Pressure differential gauge shows the working state of filter element intuitively, and automatic pulse back blowing with excessive pressure difference
Recommended working condition
Welding Workstation (3m x 2.5m x 4m)
Artificial Welding Position *2
Grinding machine, intersecting wire cutting and oth er working conditions
Standard Configuration
·
Filtration efficiency (> 99.9%) of main filter core (imported coated polyester fiber)
·
Fault Phase Protection, Overload Protection, Air Pressure Monitoring and Temperature Monitoring Devices
·
PLC Intelligent Control System
·
Tricolor lamp
·
Differential pressure gauge
·
Observation window
·
30L Dust Collection Drawer
·
Left and right air intakes (
φ
200)
·
5m Power cord
·
Spark trap (large particle dust pre-filter)
Spare parts
·
Frequency conversion system
·
IO port (remote control)
·
Explosion proof configuration
·
Universal Flexible Arm
(φ
160
)
·
Suction duct(φ200)
Model

MLWF280S

MLWF300A

MLWF350

MLWF400

Power

2.2kw

2.2kw

3.0kw

3.0kw

Voltage

220/380/415V 50Hz

Air Volume

2500-2800m³/h

2800-3200m³/h

3000-3500m³/h

3500-4500m³/h

Accuracy

0.3μm

Filter material

PTFE Cartridge Filter

Filter Area

10m²

20m²

20m²

40m²

Filter Size

∅325*660mm (1 branches)

∅325*660mm (2 branches)

∅325*660mm (2 branches)

∅325*660mm (4 branches)

Cleaning

Automatic Dedusting

Noise

75dBA

Size

630×650×1760mm

840×800×1850mm

840×800×1850mm

960×985×2080mm

Weight

230kg

300kg

310kg

320kg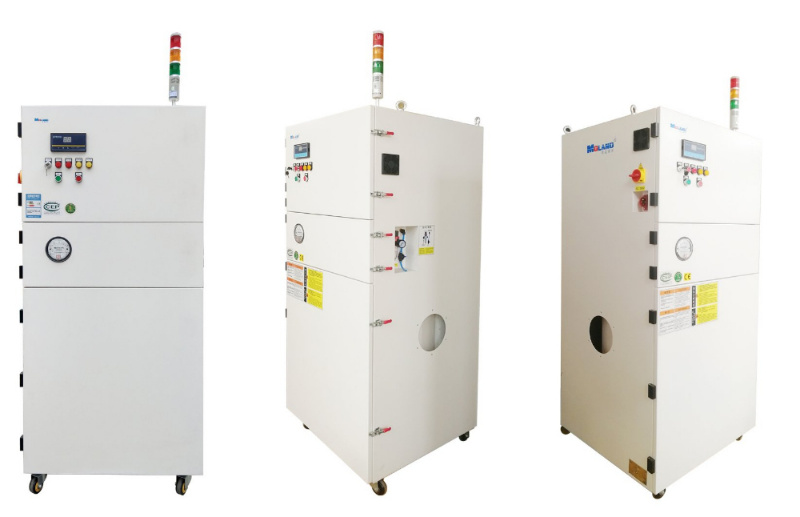 Model

MLWF500-6T

MLWF500-9T

MLWF800

MLWF800-Ash Bucket

Power

5.5kw

5.5kw

7.5kw

7.5kw

Voltage

220/380/415V 50Hz

Air Volume

5000-7000m³/h

5000-7000m³/h

7000-10500m³/h

7000-10500m³/h

Accuracy

0.3μm

Filter material

PTFE Cartridge Filter

Filter Area

60m²

90m²

108m²

108m²

Filter Size

∅325*660mm (6 branches)

∅325*660mm (9 branches)

∅325*860mm (9 branches)

∅325*860mm (9 branches)

Cleaning

Automatic Dedusting

Noise

75dBA

Size

1240×1130×2200mm

1240×1470×2200mm

1240×1470×2400mm

1240×1470×2960mm

Weight

660kg

800kg

980kg

980kg